The 2019 Chinook Fund Dinner was held on October 24, 2019 at Skyline in Kensington.  It was by all accounts another great success!
Together we raised over $50,000 for our community, all of which was added to our endowment at the Calgary Foundation.
The 2019 Chinook fund Grant recipients were  End of the Rainbow Foundation, Calgary Outlink, Alberta Playwrights YouthRIOT and Calgary Queer Arts Society's Queeryly Festival Dinner.
William (Bill) Wuttunee was the 2019 Chinook Fund Hero. The award was given to Mr. Wuttunee posthumously in the presence of family and friends.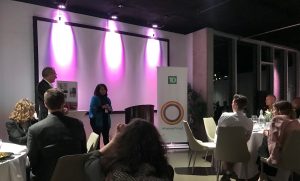 Thanks to our sponsors TD, Bee Kingdom Glass, the Hyatt Calgary, Rubiyat and Summer Love Vodka.