We asked some of our recent grant recipients to provide information regarding the impact their Chinook Fund Grant is making to their organization, members, or clients.
What follows are the words of our grant recipients.
Queer for the Holidays (2020) Calgary Queer Arts Society
With the support of The Chinook Fund, Calgary Queer Arts Society (CQAS) is pleased to be able to present Queer for the Holidays, an online film screening series that celebrates queer identity for the 2020 holiday season. Since 2017, CQAS has committed to providing annual, accessible holiday programming through our Queerly Festive Dinner, which has come to be an important event for the queer community at a time of year that can be difficult or isolating for some members of our community.
We recognize that 2020 will need to look different as a result of the COVID-19 pandemic, and Queer for the Holidays will be our way of making accessible, safe programming that allows queer people to feel seen and connected.
Expect a package of retro films, new shorts and features celebrating diverse queer identities, all available on the easy-to-use Xerb.tv platform that brought you the 2020 Fairy Tales Queer Film Festival.
We invite you to get cozy with us and enjoy your holiday at home!
Click here to access the Calgary Queer Arts Society website
Virtual Season (2020) Calgary Men's Chorus
The Calgary Men's Chorus is an inclusive men's chorus that has been an active cheerleader and partner for Calgary's LGBTQ2S+ choral communities for over 25 years. Like many arts organizations that provide live music, the Calgary Men's Chorus is facing a tremendous challenge in providing to the community and its members its primary goal which is to create and deliver live music performances via song.
As you know, a choir is all about the act of singing together – the closer, the better. This seemingly simple act has tremendous power to lift our spirits, and this has never been more important than in these strange, isolating, and uncertain times of the COVID-19 pandemic.
Given the restrictions we face, we need to reimagine how we deliver on our goals of creating music together until it's safe to resume rehearsals without restriction. The concept of a virtual choir is central to our plan forward.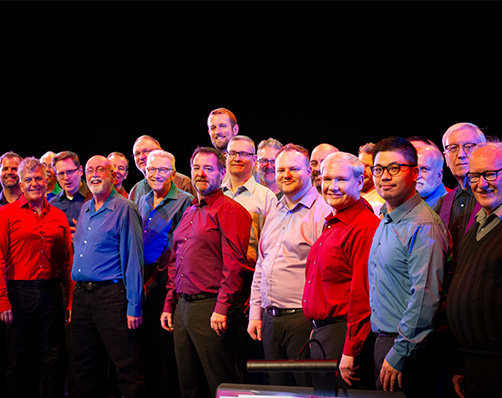 Click here to access the Calgary Men's Chorus website
YOUth Riot 2021 (2020) Alberta Playwrights
Content coming soon!
Click here to access the Alberta Playwrights website
Stories of Pride (2020) The SHARP Foundation
Content coming soon!
Click here to access The SHARP Foundation website
YOUth Riot 2020 (2019) Alberta Playwrights
In 2020 we thought that we might have to cancel the program due to COVID restrictions. However, we were able to move the program online without any loss of engagement with the participants. As the program, and lockdown, moved from week to week, we could see that for some of the participants this was their only safe space. Where the sudden cancellation of a program like this might prove dire during a pandemic, we were able to use the funds from the Chinook Fund to not only continue the program, but adapt it to fit the needs of the time.
Our participants continued to show up, week after week, finding solace and companionship during a jarring and isolated time. One participant wrote, "I'm so glad I have this right now…it's the only place where I can be me."
Queerly Festive Dinner & Show (2019) Calgary Queer Arts Society
Queerly Festive is a holiday celebration that took place in the main welcome gallery of the New Central Library, and welcomed over 400+ members of our community to enjoy an evening of food catered by The Palomino Smokehouse, and an evening of local performances, which was generously supported by the Chinook Fund.
The 2019 Queerly Festive dinner was an absolute success, creating a warm, welcoming environment to celebrate our community during a time that can traditionally be difficult or isolating for many people.
This annual event, held since 2017, promotes community connections across all ages and celebrates local LGBTQ+ artists.
The funds distributed from The Chinook Fund went to cover artist fees associated with the event. This support allowed us to expand the (continuously sold out) event in order to be able to accommodate more guests and present even more artists.
Calgary Pride's Queerly Festive
Calgary Refugee Centre (2019) End of the Rainbow
(Excerpts from End of the Rainbow's report to The Chinook Fund)
The LGBTQ+ Refugee Centre is unique in Calgary. It is the only service in Calgary that can exclusively devote itself to providing services to refugee claimants facing persecution in their country of origin due to their sexual orientation or gender identity, and who seek protection in Canada. Both the governments of Canada and Alberta forbid their funded immigrant serving organizations to provide any services to this high need group. It is a point of structural discrimination that not only accentuates harm and further trauma to LGBTQ+ people seeking asylum but also fosters xenophobia in our society including racism, homophobia, and transphobia.
Regardless of [COVID] restrictions, we were able to provide services through volunteers to over 100 LGBTQ+ refugee claimants. Because of your [Chinook Fund] grant, we were able to also leverage additional funds through the United Way to extend services through the COVID-19 period and hire a full-time services coordinator for the foundation with primary responsibilities to manage the refugee Centre. This allowed us to extend the life of the Centre. So even though all the funds you gave will be fully expended by the end of this year, we are able to extend the project well into 2021.
Alexia's Story
Alexia is a young lesbian from Iran. Over the course of years, she experienced considerable trauma and was experiencing severe mental and physical abuse. She was not able to live in Iran anymore. Alexia came to Canada in February 2019 to avoid the abuse she experienced and to complete school.
During the same year, she met many young LGBTQ+ Canadians and dreamed to stay permanently to live her life fully. But her family demanded she go through with an arranged marriage. Refusing this, at about the time COVID-19 began, her happy teenage life became a nightmare. Her family stopped supporting her and she became on the cusp of being homeless.
Alexia reached out to Calgary's LGBTQ+ Refugee Centre. We were able to help her with her settlement needs and improve her life skills. In collaboration with other organizations, we secured microloan and job search services. We were able to assist with her refugee claim.
Through our support, Alexia moved from being distressed to relieved, and motivated to support herself. Recently, she found a part-time job at a fast-food restaurant, enabling her to save for her school fees and survive in Canada. Without the support of Calgary's LGBTQ+ Refugee Centre, Alexia would have been forced to go back to her country and face a very dark future of persecution, including possible imprisonment or death for simply being who she is.
In Her Own Words (another client of the Centre)
"I came from a violent country where I was routinely threatened with violence and where the authorities were unwilling to protect me. I tried my best to work with the authorities in my country, but they regularly refused to help me. Having had enough of being hunted, I came to Canada and made a refugee claim at the border. However, as a refugee claimant, I was not entitled to government assistance or housing, so I had to go to a homeless shelter while waiting to get a work permit and start working on my claim.
The first place I went to was [a] shelter, and it wasn't perfect. The shelter was full of drug users and religious fanatics that would give me flak for being Jewish, transgender, and lesbian. I was mocked or snide comments about my gender identity from the other shelter residents and some staff. You had to be back at the shelter every night at a certain time because mats were given on a first-come, first-served basis, and if you failed to arrive back at the shelter before they are allocated, a night at the Drop-In Centre was threatened.
I attempted to get shelter at other places, but many of the other shelters either did not have a room, or it was just discrimination because I am a transgender. They told me that I needed to have seen a local Calgary-based doctor from an approved list for a certain amount of time before I would be allowed to come to the shelter. It did not matter that I had started transition 12 years prior and have been on hormone replacement therapy for that long.
Calgary's LGBTQ+ Refugee Centre program helped me to rent a place of my own, which offered me hope and help perfect my refugee claim. Over the past seven months, I have not only been housed, but I have also been able to work with people at the Centre for Newcomers to find work. I am now gainfully employed as a web developer, something I did not know was possible due to my non-existent Canadian work experience. The people I met through the LGBTQ+ Refugee Centre worked with me and am forever grateful to them.
Once again am grateful to the Calgary's LGBTQ+ Refugee Centre."