The Chinook Hero Award
The Chinook Hero Award gives thanks and recognition to a member or group in the LGBT community who has or have helped improve the LGBTQ community over a period of years.
2017 Hero Award Recipeint was: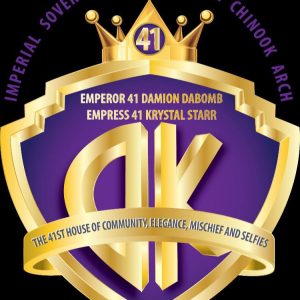 The Imperial Sovereign Court of the Chinook Arch
The Imperial Sovereign Court of the Chinook Arch has a 42 year history in the Calgary area of being leaders fighting for LGBT rights when it was not easy or safe.
In addition to being 'out there',  each year this not for profit organization has entertained us, and while doing so raised immense amounts of money the hard way – a few dollars at a time.
Money raised by these volunteers has been contributed back to various worthy and needy organizations in our community. Estimates have the amount of money raised by this groups efforts as approaching $1,000,000. In recent years it is not unusual for the 'court' to raise in excess of $50,000 a year.
The Chinook Fund is proud to recognize this group as being the 1st 'group' to receive our Hero Award!
2016 Hero Award Recipient was:
Nancy Miller and Richard Gregory
Every year The Chinook Fund Advisors give a deserving member of the local LGBTQ community a hero award – this year they gave two!
Our Heroes, Nancy and Richard, were not only involved with fighting for our rights through the idea of Pride, they were involved with CLAGPAG, the Calgary Lesbian and Gay Political Action Guild, an organization which is where we find the roots of Pride. This was merely one aspect of CLAGPAG and their activism. They were involved in the struggle for gay and human rights on many levels, including the Delwin Vriend legal battle. But it was not only with the big battles that our award recipients made a difference, it was the many smaller day to day skirmishes that also moved forward the struggle for our rights.
For four decades, Nancy Miller has been advocating for social justice, human rights and reproductive choice. In addition to being involved with CLAGPAG, she has been an organizer of Take Back the Night marches, served as a board member for the Calgary and Alberta Status of Women Action Committees, Women Looking Forward, The Lesbian Information Line (co-founder), Planned Parenthood Alberta and the Calgary Sexual Health Centre (formerly CBCA). A proud feminist, today Nancy provides strategic communications, writing and video production services to progressive candidates, non-profits and small businesses.
Like Nancy, Richard Gregory was not only critical to developing Pride he was, in addition to being a leader at CLAGPAG, an Aids Calgary volunteer as well as board member, and in 1989 organized the Aids Quilt project's visit to Calgary.
In 1995 he ran for council in ward 8 as the first out gay man in Calgary to run for political office. He was at that time also chair of the advisory committee of the social services program at Mount Royal College.
During those years he was also a committee member of the OXFAM-Canada Human Rights Initiative Project and worked for the Boys and Girls Club of Calgary.  Today he is the president of Alberta College of Social Workers Council. And is the department chair of the health and human services program at Medicine Hat College.
2015 Hero Award Recipient was:
Lois Szabo
Lois was a pioneer in Calgary's LGBTQ community. She helped to open Club Carousel, Calgary's first gay bar in the 1960's. Before homosexuality was decriminalized in 1969 any same-sex couple dancing together was potentially subject to arrest under the charge of gross indecency. Lois Szabo in a 1973 edition of Carousel Capers wrote that: "In the past, many gay clubs have been set up and these businesses were primarily concerned with earning a fast buck!"  Her editorial point being that Club Carousel was the first gay club owned and operated by the community. She went on to push to equal rights for decades and provide a safe place for the LGBTQ community.
2014 Hero Award Recipient was:
Stephen Lock
Stephen paved the way for LGBT Calgarians by helping to set up many organzations, including Gay Lines which became the Gay and Lesbian Community Services Association, now operating as Calgary Outlinks. He was the media point person for years on LGBT issues in Calgary when few had the ability or courage to stand in front of the media. This included having his own radio show "Speak Sebastian." He has written countless articles on gay and lesbian rights. He was a board member of EGALE Canada for numerous years. There is so much Stephen has done there is not room to list it all, but today LGBT people in Calgary have a far more enjoyable and accepting city – thanks to Stephen's pioneering work.
2013 Hero Award Recipient was:
Delwin Vriend
Delwin challenged the Alberta Human Rights Act in a supreme court case after he was fired for being gay. He won the case and as a result "sexual orientation" was read into the Canadian constitution. He helped changed the laws in Canada so that we could all enjoy equal rights, something that is being modeled in many countries worldwide. Click to see a conversation with Delwin.
—— ——-
The Chinook Hero Award
The Chinook Hero Award gives thanks and recognition to a member or group in the LGBTQ community who has or have helped improve the LGBT community over a period of years.
Nominations
Any member of the public may nominate a candidate, by sending a 1 page letter about the nominee to info [at] calgarychinookfund.ca The advisory committee nominates their own candidates from submissions and other sources.
Names of persons or groups and an abstract of their accomplishments are nominated by 2 persons. The nominee must agree to be nominated. Nominees can achieve an award at any year after nominee submission. The grant decision-making committee reviews the applicants and recommends the recipient to the larger advisory committee.
Qualifications
Any person or group who or which has spent a number of years attempting to better the community for LGBTQ people in Alberta, and has achieved a significant accomplishment or accomplishments, is qualified.
About the Award
The Hero Award is given to no more than one group or person per year is given. No financial award is given. A person can only achieve the award once
Announcement
The award is given at each Chinook dinner once per year. It is announced on the Chinook webpage.
Original Glass Trophy by Bee Kingdom Glass
We would like to thank the artist of the award itself, Bee Kingdom Glass. Each year the award recipient receives an original glass blown trophy from Bee Kingdom Glass, see: http://www.beekingdomglass.com/